Dichloromethane CH2cl2 CAS 75-09-2
| | |
| --- | --- |
| Price | USD15.00 |
| Packge | 1Kg/Bag |
Min. Order:

1Kg/Bag

Supply Ability:

Weekly supply of 1000KG

Time:

2022-08-02
Product Name

Dichloromethane

CAS No.

75-09-2

EINECS No.

200-838-9

MF

CH2Cl2

MW

84.93

InChIKey

YMWUJEATGCHHMB-UHFFFAOYSA-N

Appearance

LiquidAPHA: ≤10

Melting point

-97 °C

Boiling point

39.8-40 °C mm Hg(lit.)

storage temp.

room temp

Water Solubility

20 g/L (20 ºC)

density

1.325 g/mL at 25 °C(lit.)
Details and Service:
Product Name: Dichloromethane
CAS NO.:75-09-2
Melting point : -97 °C
Boiling point : 39.8-40 °C mm Hg(lit.)
Density : 1.325 g/mL at 25 °C(lit.)
Vapor density : 2.9 (vs air)
Vapor pressure : 24.45 psi ( 55 °C)
Refractive index : n20/D 1.424(lit.)
Fp : 39-40°C
Storage temp. : room temp
Form : Liquid
Color : APHA: ≤10
Specific Gravity : 1.329 (20/20℃)
Odor : Odor threshold 160 to 230 ppm
Odor Threshold : 160ppm
Explosive limit : 13-22%(V)
Water Solubility : 20 g/L (20 ºC)
Shipping:
We have professional shipping afent,based on customers'requairments for transport.
By express: Fedex, DHL, EMS,UPS etc. By sea and By air.
FAQ:

Q1: Whats'your Minimum order quality?
For the high value product,our MOQ starts from 1g and generally starts from 10gs.For other low price product,our MOQ starts from 100g and 1000g.
Q2:What is your carrier?
For small order,we ship by air express. For example Fedex,TNT, DHL ,EMS.
For large order,we can send by air to the air port and send by sea to the sea port.
Q3:How to contact us?
You can dial our telephone directly, you will get our reply.
Send email to us.
Q4:Is there any discount?

Yes, for larger quantity, we always support with better price.
Company Profile: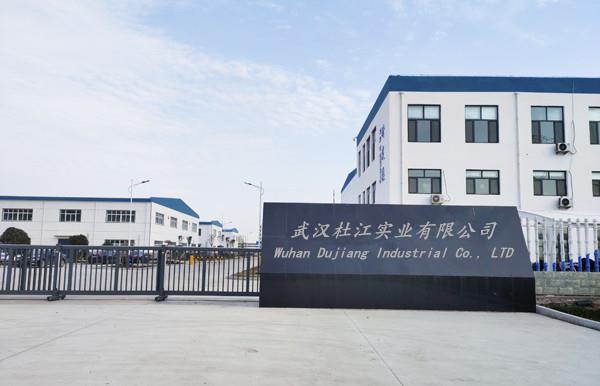 Wuhan Dujiang Industrial Co., Ltd. was established in 2021. It is a high-tech chemical enterprise in Central China, specializing in the research and development, production and sales of animal and plant extracts, fine chemicals, pharmaceutical raw materials and intermediates.Since its establishment, the company attaches great importance to team training and technical reform.Adhering to the corporate purpose of "quality first, integrity first".The company is committed to the separation, purification and chiral separation of high purity natural products, as well as the development, production and marketing of API intermediates.The company mainly engaged in high-end monomer products of natural medicinal plants, semi-synthetic derivatives of medicinal plant ingredients, chemical synthetic products, high-end natural food and cosmetic additives.In order to meet the needs of preclinical research at home and abroad, and to save cost and unit for drug development companies, the company specially introduced large-scale axial pressure preparative chromatography.Through the ISO9001 quality management system certification.Buyers are welcome to contact us and we will use the most sincere attitude and preferential prices for your service.If you have any product needs, please contact us, whatsapp/wechat: +86 18120567669 , phone:+86 18120567669 .
Contact me:
whatsapp/wechat: +86 18120567669 , phone:+86 18120567669, Email: wei@dujiangsy.com
Company Profile Introduction
Wuhan Dujiang Industrial Co., Ltd. was established in 2009. It is a high-tech chemical enterprise in Central China, specializing in the research and development, production and sales of animal and plant extracts, fine chemicals, pharmaceutical raw materials and intermediates.Since its establishment, the company attaches great importance to team training and technical reform.In 2015, according to the national pharmacopoeia production process index control standards, the company invested 8,600 square meters of GMP standard plant.Adhering to the corporate purpose of "quality first, integrity first", the company was rated as a provincial advanced unit in 2018.Set research and development, production, testing, sales as one of the high-tech enterprises.The company is committed to the separation, purification and chiral separation of high purity natural products, as well as the development, production and marketing of API intermediates.The company mainly engaged in high-end monomer products of natural medicinal plants, semi-synthetic derivatives of medicinal plant ingredients, chemical synthetic products, high-end natural food and cosmetic additives.After 10 years of development, the company now has 20 tons of raw material extraction equipment, 1000 square meters of separation quality processing workshop, 800 square meters of analysis, development, testing center.In order to meet the needs of preclinical research at home and abroad, and to save cost and unit for drug development companies, the company specially introduced large-scale axial pressure preparative chromatography.In 2016, the company established a chiral separation center and launched 100 high-quality research and development projects.Equip with axial compression preparation chromatography system, liquid chromatography, gas chromatography, magnetic driven autoclave and other high-end advanced detection, experiment, pilot equipment.Through the ISO9001 quality management system certification.The company has produ
Since:

2021-06-09

Address:

Room H0680, Building 1, No. 58, Guanggu Avenue, East Lake New Technology Development Zone, Wuhan (Wu