High Purity Raw Powder 1-(3-Dimethylaminopropyl)-3-ethylcarbodiimide hydrochloride
| | | | |
| --- | --- | --- | --- |
| Price | USD9.90 | USD8.80 | USD7.70 |
| Packge | 10g | 500g | 1000g |
Min. Order:

10g

Supply Ability:

1000kgs

Time:

2022-03-08
Product Name

1-(3-Dimethylaminopropyl)-3-ethylcarbodiimide hydrochloride

CAS No.

25952-53-8

EINECS No.

247-361-2

MF

C8H18ClN3

MW

191.7

InChIKey

FPQQSJJWHUJYPU-UHFFFAOYSA-N

Appearance

Crystalline PowderWhite to off-white

Melting point

110-115 °C(lit.)

storage temp.

-20°C

Water Solubility

Soluble

density

0.877 g/mL at 20 °C(lit.)
High Purity Raw Powder 1-(3-Dimethylaminopropyl)-3-ethylcarbodiimide hydrochloride
Basic Information
1-(3-Dimethylaminopropyl)-3-ethylcarbodiimide hydrochloride structure

Common Name
1-(3-Dimethylaminopropyl)-3-ethylcarbodiimide hydrochloride
CAS Number
25952-53-8
Molecular Weight
191.70
Density
0.877 g/mL at 20 °C(lit.)
Boiling Point
269.1ºC at 760 mmHg
Molecular Formula
C

8

H

18

ClN

3

Melting Point
110-115 °C(lit.)
MSDS

Chinese

USA

Flash Point
107.9ºC
Symbol



GHS05, GHS07

Signal Word
Danger
Contact us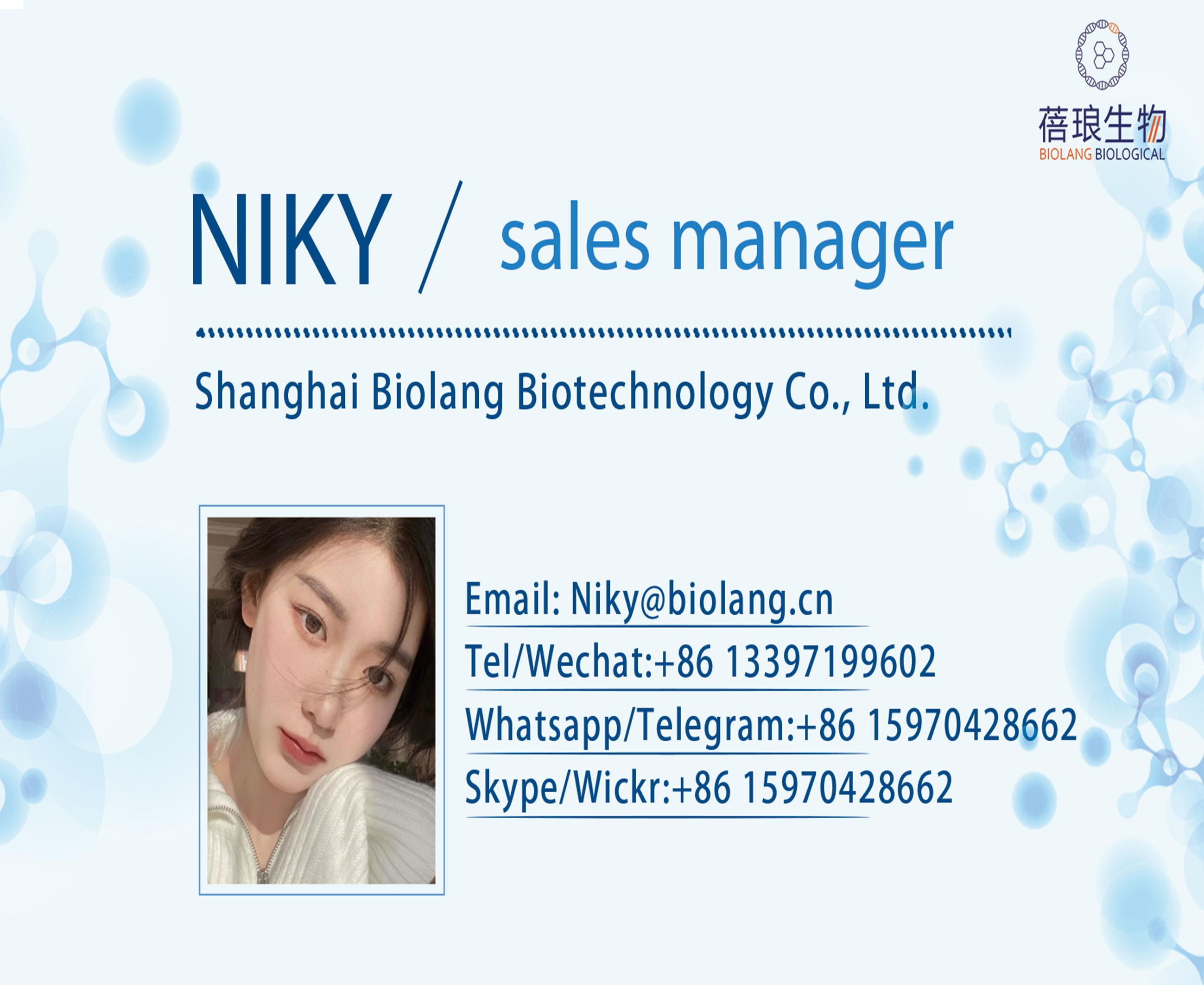 Our Company

Shanghai Biolang Biological Co., Ltd has a registered capital of 1 million yuan and is one of the most dynamic foreign trade companies in the Chinese market. We have a pharmaceutical raw material production plant and a reagent R&D center. We now have the most complete product line. In addition, we have developed and produced tens of thousands of reagents. We also have the business of custom synthesis of various organic compounds as a supplement. We can synthesize almost all chemicals. Our goal is to survive by quality and develop by credit.

In the past two years, our products have spread over more than 30 countries in the world, Europe, South America, North America, Southeast Asia and Africa. We work with friends all over the world to develop the best quality products, the most reasonable prices and safe and effective transportation. Product can be ordered from milligrams to tons. Meet the purchase of new and old customers. We will not let you down.
Payment & Delivery
Why choose us?

1. Products with high purity and good quality
2. Choose the most suitable price according to customer needs to achieve a win-win situation.
3. Spot samples can be shipped quickly after payment, saving time for receiving goods.
4. Track the transportation of goods throughout the process
5. Safe raw materials from China
6. Have professional customs clearance capabilities and the best pre-sales and after-sales services.

our service
1. Cooperate with scientific research institutes and major factories to strictly control the entire process of products from raw materials to finished products
2. Customer first, we provide reasonable prices, high-quality products and timely delivery.
3. We can send the goods directly to your receiving address.
4. Quickly and accurately answer customers' doubts
5. If you place a large number of orders with us, we can provide preferential prices
6. Products can be packaged according to customer requirements.

FAQ

Q1: Can I get some samples?
Answer: Yes, we can provide free samples, but the freight is paid by our customers.

Q2: How to confirm the product quality before placing an order?
Answer: You can get samples of some products for free, you only need to pay the freight or arrange express delivery to us and get the samples. You can send us your product specifications and requirements, and we will manufacture products according to your requirements.

Q3: How to start an order or payment?
After the order is confirmed, the PI will be sent first with our bank information. Payment via T/T, Western Union, Letter of Credit, Alibaba Trade Assurance, Cashapp, Moneygram or Bitcoin.

Q4: How to place an order?
You can contact me through Trademanager, WhatsApp, Skype Online and other contact methods, tell me the product and quantity you need, and we will give you a quote. If you choose one of the above payment methods, we will arrange delivery for you.

Q5: Are there any discounts?
Answer: There are different discounts for different quantities.


Q6: How about your delivery time?
Answer: Generally speaking, it will take 3 to 5 days after receiving your prepayment. (Excluding Chinese holidays)

Q6: How do you deal with quality complaints?
Answer: First of all, our quality control will reduce quality problems to close to zero. If the quality problem is indeed caused by us, we will replace it for you free of charge or refund your loss.
Company Profile Introduction
Shanghai Beilang was established in 2004. Its headquarter and foreign trade department are located in Shanghai, its R&D center is located in Optics Valley Bio-City, its logistics center is located in Wuhan Biomedical Park, and its production bases are located in Luotian, Tongshan, Dongying, Pingxiang and other places. Beilang Bio's business involves the research and development of innovative drugs, the screening of compound crystal forms, the custom synthesis of pharmaceutical intermediates and APIs, and the import and export business, as well as the outsourcing procurement and agent sales of pharmaceutical chemicals. In order to better serve customers, Beilang Bio has assembled a R&D team composed of 5 Ph.Ds, which can carry out process development and pilot scale-up production of multiple projects at the same time. At the same time, it has established more than 5,000 square meters of cGMP production. The base has passed the FDA's ready-made review, which can realize the g-kg-t rapid response of pharmaceutical intermediates. Not only that, it has also built a 1,000-square-meter logistics center in Wuhan, a thoroughfare of nine provinces, and has a spot reserve worth more than 10 million. , It can realize the quick response to 1w orders in a single day. Beilang Biology has cooperated with many well-known universities and scientific research institutions such as Wuhan University, Shanghai University, China Medical University, China Pharmaceutical University, Shenyang Pharmaceutical University, Shanghai Institutes of Biological Sciences, China Institute of Biotechnology in the development of new drugs. Cooperation. At the same time, it has extensively cooperated with major pharmaceutical companies such as CSPC, Huayao Group, and Langbo Pharmaceutical to jointly develop export business. For a long time, colleagues regard Biolang as a long-term and reliable partner. We also hope to carry out more cooperation with colleagues in the industry, and work towards a better tom
Since:

2015-12-25

Address:

Room D621, Building 7, No. 228, Jingle Road, Langxia Town, Jinshan District, Shanghai